6-Day Residential Youth Bridge Camp         
June 28-July 3, 2015   
Carlinville, IL                                                                     
2016 Dates: To Be Announced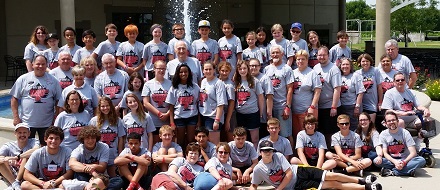 Sunday, June 28th marked the beginning of the 7th annual, 6-day Youth Bridge Camp Carlinville, IL when 35 campers arrived from 14 states. This residential camp includes both bridge lessons and tournaments, as well as indoor and outdoor recreational activities for students entering 6th through 10th grades in Fall 2015.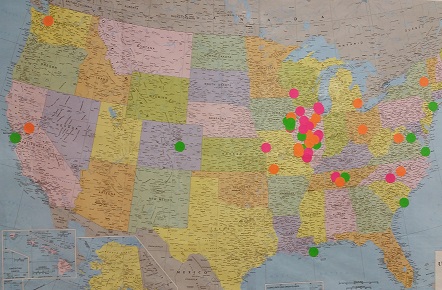 Three of the campers. Benjamin Torio and Ella Reising, first- time campers, and Kaleigh Ishmael, third-year camper, from the St. Louis area received scholarships from Unit 143.  There were 22 staff members, who filled the role of teachers, counselors, two administrators and one nurse.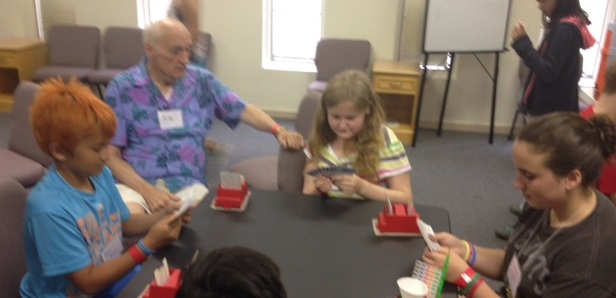 Benjamin Torio and Ella Reising, were first- time campers, and Kaleigh Ishmael, was a third-year camper. All three were awarded scholarship from Unit 143 to attend camp.
.
The camp is run and was originally founded by Chris Shaw Jr, Ph.D. and his wife Mary Beth Lattan-Shaw.  Steve Reiss and his wife Amy Stabenow are the Camp Registrars.  The staff members are from five states, most have worked at the camp previously.  To date this is the only overnight bridge camp in the US.  The second overnight was begun this year in St. Joseph, MO by Carlinville camp veterans Kathy Rolfe and Phyllis Siegel; this week-long camp began July 5.
The campers were evaluated on Sunday evening and assigned to one of four groups named Clubs, Diamonds, Hearts and Spades.  Lectures were tailored to the students' levels, and table coaches watched as students practiced what they just learned in the lecture.  Phyllis Siegel taught the Clubs, Kathy Rolfe of Kansas City taught the Diamonds, Bryan Delfs, ACBL Education Program Manager, taught the Hearts (his sixth year in this position) and Mike Huston, who has earned over 16,000 master points, taught the Spades.   The speed at which the campers picked up and practiced the lessons was impressive.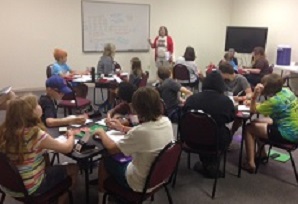 Phylis Siegel taught the Clubs.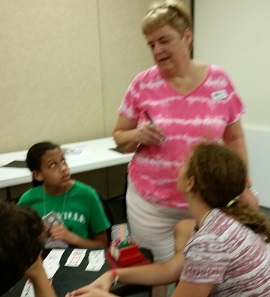 Kathy Rolfe taught the Diamonds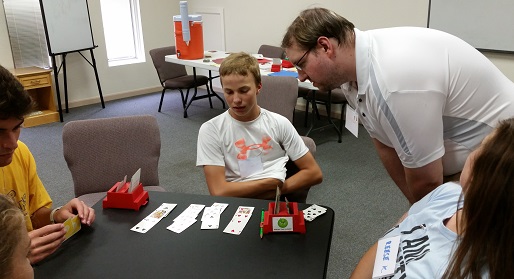 Brian Delfs taught the Hearts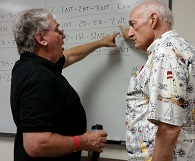 Mike Huston taught the Spades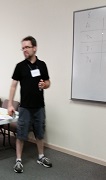 Andrew Carver guest lectures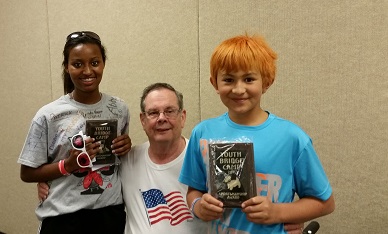 Chris with Sportsmanship winners, one is Ben from Unit 143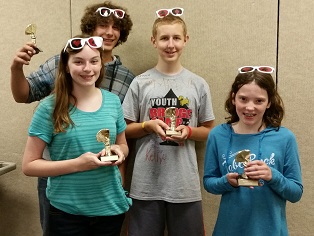 July 2 Swiss Team winners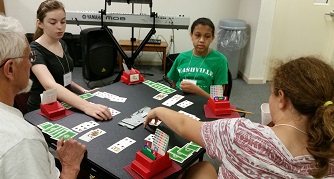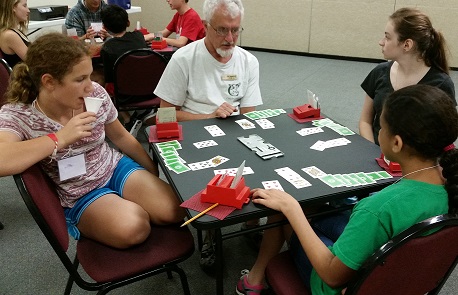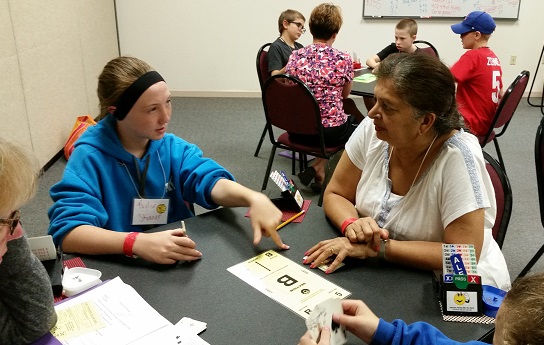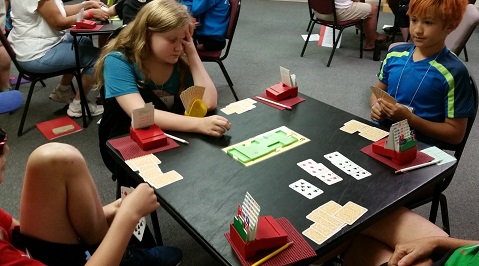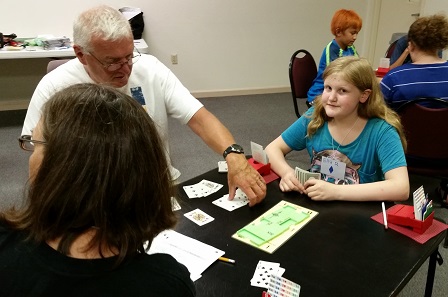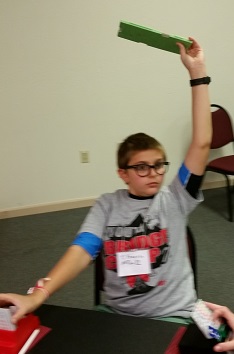 The kids are accompanied by adults at all times, one counselor per three campers, from the dining room building, to the activity center, to the poor or lake, to miniature golf, archery, zip line, giant slide, canoes or any activity that the campers enjoyed during their free time.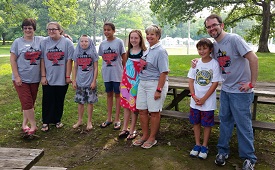 4 sets of Birthday Twins -
For every group of 36 people, there will be at least one pair that share a birthday. We had four sets of us that had the same birthday!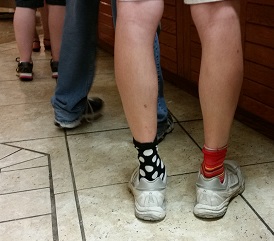 Mike Huston's crazy socks in the dining room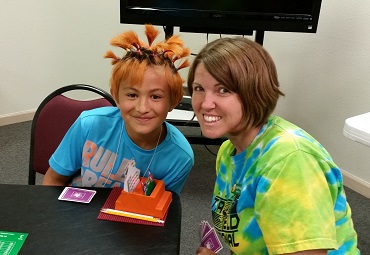 Ben got "Kelly'ed"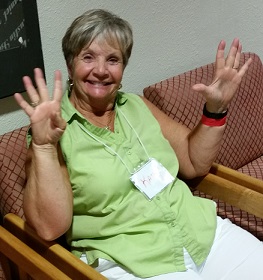 Kathy keeping score Ella does well at achery
at ping pong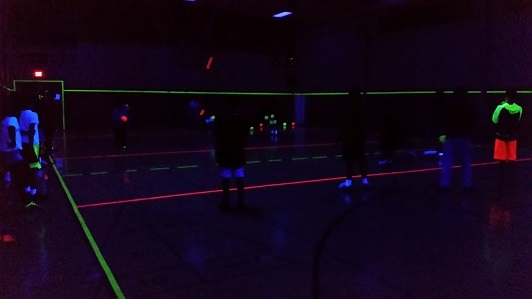 Black light dodge ball - a real favorite, even if you can't see it!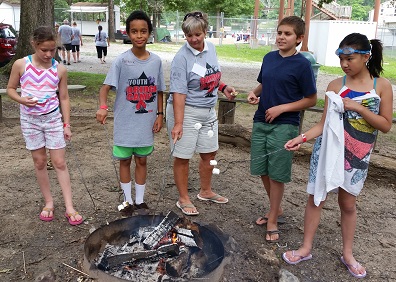 S'mores - a favorite!!!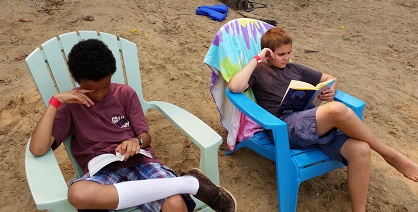 Relaxing!
For more information on youth bridge camp for 6th to 10th grade for 2016, contact Chris Shaw,  ccshawjr@yahoo.com or call 217-825-5444.  For high school age bridge camp in St. Joseph, MO. contact Phyllis Siegel at 314-313-6092.also 2016 information will be posted www.Unit143.org.