Bridge Camp 2014
Carlinville, IL
June 22-28

Chris Shaw, business manager of Bridge Camp, and his wife Mary Beth Lattan, camp coordinator, report "From the Atlantic (SC, NC, VA, MD, and MA) to the Pacific (OR and CA) and from right here in the Midwest (AR, IA, IL, LA, MO, TN, TX, and WI) 42 campers from 15 states in all between the ages of 11 and 15 came to Lake Williamson Christian Center in Carlinville, IL.
They joined a staff of 23 counselors teachers, a nurse, and two administrators traveled from IA, IL, MO, NC, MS, VA, and RI to form Youth Bridge Camp 2014. Steve Reiss and Amy Stabenow of our Unit were both registrars and camp counselors. Shaw and Layton are creators and founders of the camp.
Campers were divided in four skill levels upon arriving on Sunday evening; they were called Clubs, Diamonds, Hearts, and Spades. Clubs were those newest to bridge while Spades were the most experienced. Lectures were tailored to the students' levels and table coaches watched as students practice what they'd just learned in the lecture. Phyllis Siegel taught the Clubs, Kathy Rolfe taught the Diamond group, Brian Delfs taught the Hearts, and Chris Moll taught the Spades.
There were at least two 2+hours learning sessions daily with some kind of pairs or team competition most evenings. The Clubs had lessons and their own tournaments on Sunday, Monday and Tuesday nights. The Diamonds, Hearts and Spades classes played in a Pairs tournament Monday and Tuesday nights, choosing their own partners.

On Wednesday and Thursday nights, the Clubs and Diamonds were paired together and the Hearts and Spades were paired together for the second Pairs tournament. Several teachers arranged the pairings. The week ended Friday evening with two single-session 8 Is Enough team games.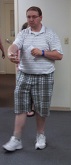 The students learned good bridge etiquette and well as bridge.
Bryan Delfs who taught the Hearts group, was in his fifth year with the campers. He is the Education Program Manager for ACBL. Bryan acted as our tournament director this year. He taught the campers that his name was "Director Please".

Kaleigh Ishmael received a scholarship to attend from Unit 143. This was Kaleigh's second year at bridge camp and she played in the Hearts group. It was awarded by the Education Committee of the Unit board.
In her application for the scholarship Kaliegh had some interesting insights, "I find solace in the silence that I experience during the play of Bridge. I relish the time I have to play Bridge with my Grandma and others and it causes me to experience an immense level of pleasure that I cannot find anywhere else.  My favorite part about Bridge, however, is the structure, which, in my opinion, is very exact in some aspects, but not in others.  I am fond of something that is somewhat strict, but not entirely rigid."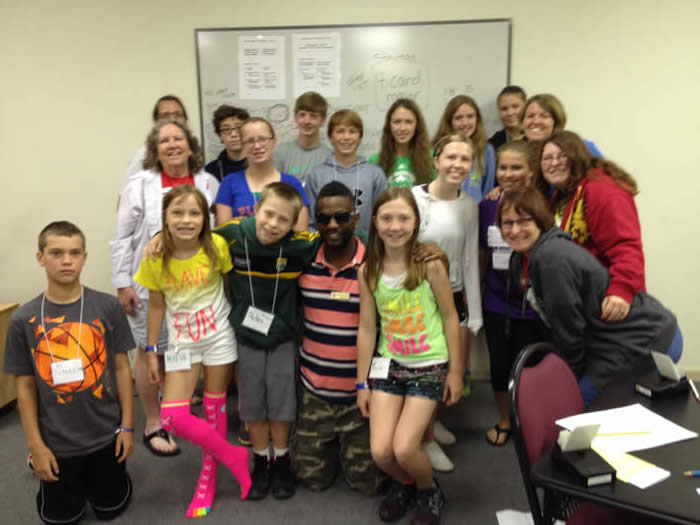 Phyllis Siegel, Unit 143 bridge teacher,
taught the Clubs beginning skills campers.

Another local camper, Martha Kukielski,
Unit 223 defends a hand.

Shipley from Nashville, TN is
happy with her hand on this deal.
Declan from NC is proud of his dummy!
7 cousins from 4 states NC, SC, TN and WI
All sent to bridge camp by their grandmother!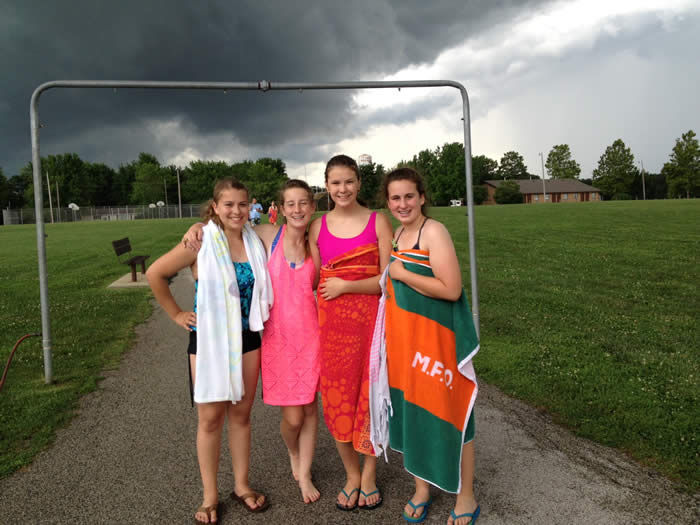 Abby Daniels, Elizabeth Odell,
Martha Kukielski, Kaleigh Ishmael after the beach.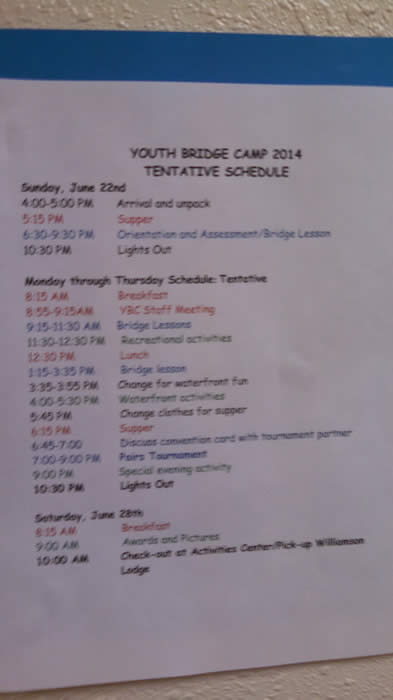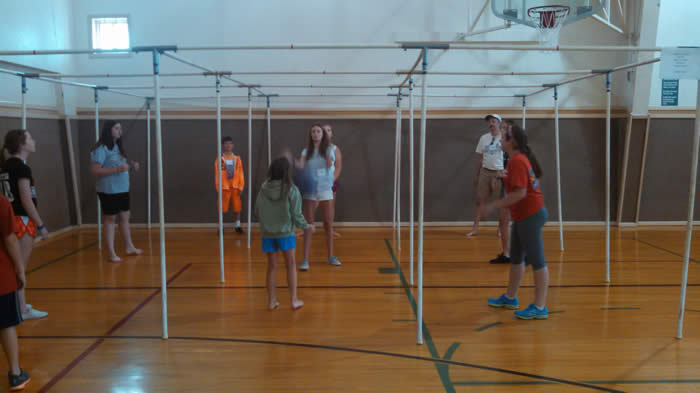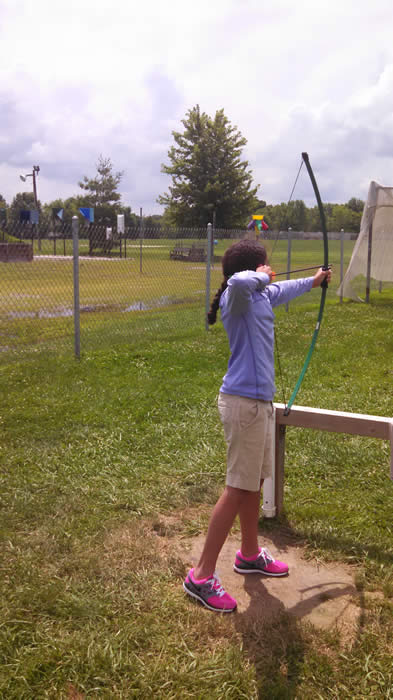 9 Square Gym Game Nashville, TN Archer
There was fun time each day scheduled for campers to take advantage of the many activities at the Williamson Center.
In addition to bridge, optional activities included tennis, ping ping, archery, mini golf, basketball, volleyball, blacklight dodgeball, 9 Square and more!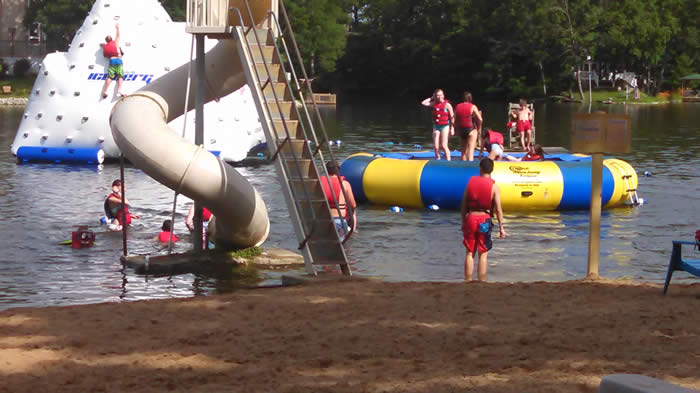 Water trampoline
Every afternoon, campers enjoyed time at an amazing lake or front pool. There are canoes and pedal boats, a zip line over the lake, a giant slide, climbing walls, and all-time favorites - the water trampoline and the "blob." You have to go to bridge camp to experience what that is!
Evening activities include trivia night, talent show, campfire, movie and indoor game night. There is great food, a variety of activities, s guarantee to learn bridge, make new friends, and have FUN!
When one of the campers from Nashville, TN arrived home and walked in the door, his first words were, "I gotta go back to Bridge Camp next summer."
Shyanne has enjoyed each year immensely. It is one thing that she has looked forward to for the last few summers. Both she and Brynjar have made friends and have very fond memories that will last them for many years to come.
Catherine had such a wonderful time at camp. She is already making plans to come back to camp next year! She is still telling stories about the lake, archery, black light dodge ball, blobbing and of course, bridge. When she got back, she was testing my rusty bridge skills and quizzed me on the different conventions that she learned.
Damien thought playing Bridge was wonderful as were the water activities and Dodge Ball. He had a wonderful time, and he learned a lot from the pros (now his mother is trying to learn these new conventions as his partner! Ha!) He also really liked swimming in the lake. The bridge camp was a great experience for him!
Mariah's mom wrote that she just loved everything about camp and bridge. She said the counselors did a phenomenal job instilling positive and appropriate behavior for the campers.
Plans for Bridge Camp 7 already are in the works for June 28-July 3, 2015.