Youth Bridge Camp 2013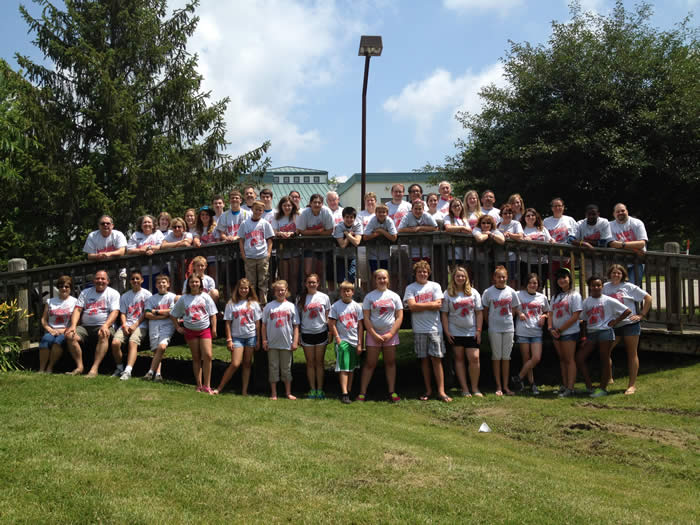 District 8 held a Youth Bridge Camp in Carlinville, IL last week  from June 30- July 6.  Camp was fun as always, turning kids into bridge players.
Four counselors, George Marvin, Amy Stabenow, Steve Reiss, and Phyllis Siegel, and two campers, Kaleigh Ishmael and Sierra Nessel, from Unit 143 went to Youth Bridge Camp in Carlinville, IL, to enjoy six days of lessons, games, waterfront activities, great food, and more! 

Kaleigh, sitting West & Sierra sitting North
(East and South not identified)
Kaleigh and Sierra, both teenagers, are beginners and are brand new to bridge.  Bridge camp is for youths aged 11-16.  There were campers from 10 different states, and counselors from six different states.  The campers are divided into three groups: beginners, intermediate, and advanced.  Lessons are taught, and there were tournaments and a Swiss team game, as well.
Phyllis taught beginners and said," You will see these two young ones Kaleigh  and Sierra, at St. Louis bridge games in the near future!  Kathy Rolfe, from the Kansas City Unit and president of ABTA, taught Intermediate players. 
Michael Houston, a bridge professional from Joplin, MO, Chris Moll also a bridge professional, and Bryan Delfs,  Education Program Manager, for ACBL, taught the advanced campers.  Phyllis said, "You can go to camp with any amount of bridge knowledge, and you will learn an awful lot."
Mary and Chris Shaw had a goal and they have achieved it. They created Youth Bridge Camp and just celebrated their fifth year. "It's been a dream come true," said Chris. "We had a plan, and it worked!," added Mary/  Lake Williamson is a wonderful facility with lots of activities. Special thanks go to the ACBL for grant money, donations received for the camp, counselors, and of course, the campers. It is truly a group effort.
Two players from Unit 143, Pat Neiman and Kae Williams, attended the adult book camp. This was something new tried this year!  It was for players with 0-299 MPs, and players had lessons and earned silver points in their sectionally-rated tournaments.
In 2014, summer bridge camp will begin June 22, one week earlier than this year. "You must know a young one interested in learning this game!  Bridge camp is a great opportunity," added Steve Reiss.